Market Exchanges
Market Exchanges displays the past and future, opening and closing times of a user-selected market exchange. The bar type must be linear and the interval must be less than 1 day.
Although many market holidays are used in the calculations, not all holidays in all exchanges are considered. However, all markets are assumed to be closed on Saturdays, Sundays, Christmas and New Years. The user is allowed to select a market exchange, whether to display the open-close tag and the exchange letters, the font, and the line and text colors. This indicator's definition is further expressed in the code given below.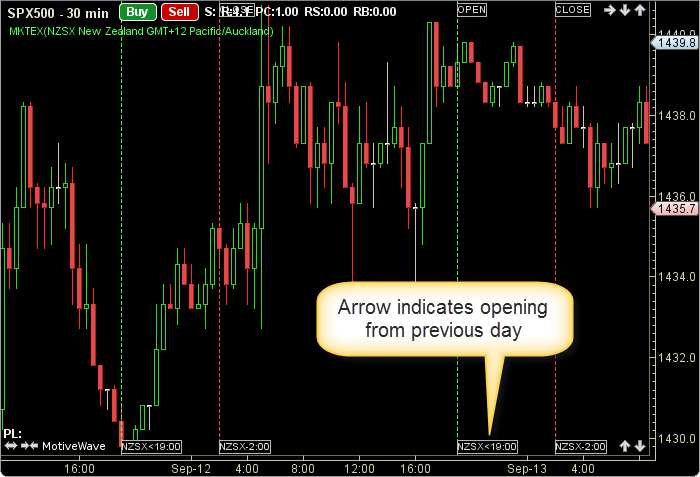 How To Trade Using Market Exchanges
Market Exchanges may assist in trading decisions; but no trading signals are generated by this study.
How To Access in MotiveWave
Go to the top menu, choose Study>Overlays>Market Exchanges
or go to the top menu, choose Add Study, start typing in this study name until you see it appear in the list, click on the study name, click OK.
Important Disclaimer: The information provided on this page is strictly for informational purposes and is not to be construed as advice or solicitation to buy or sell any security. Please see our Risk Disclosure and Performance Disclaimer Statement.
Calculation
Code may be available on request